Pacheran is a 30-month-old Andalusian who already has a height of 1.60 meters. He will definitely be a baroque hunk and we also estimate that he will go towards 1.64 or even more.
This handsome Andalusian suffered an injury to his face while still in Spain at pasture. Since it was discovered too late, stitching was not possible, so then the healing was delayed longer overall and also left a relatively large scar. Vet says this scar could remain a visible scar and above all the black fur around the scar will probably remain so too. Therefore Pacheran will be sold for a special price.
Pacheran is still a stallion and has not yet been broken in. He knows lunging, tying up, giving hooves, leading and is actually so far that the work with saddle and bridle can be started and soon slowly a rider weight.
We offer that Pacheran can also be gelded in our stables. In this case we would charge Euro 1,000, – for the castration and the 4-week care of the wound afterwards. Additionally we would socialize him. Pacheran is not at all timid at the moment and even now, as a stallion, he could easily go to the paddock/pasture with other geldings or stallions.
In terms of character, we would describe Pacheran as being rather skeptical of strangers. He expresses this by first keeping his distance and if you push him, he steps back and also puts on his ears. He does not show this behavior with people who interact with him on a daily basis. We assume that this is due to the weeks of daily wound care.
FACT SHEET:
| | | | |
| --- | --- | --- | --- |
| Name: | Pacheran | Gender: | Stallion |
| Breed: | Andalusian | Colour: | Buckskin |
| Age: | 2019 | Discipline: | unbroken, Dressage, Leisure |
| Height: | 1,60 m | Location: | 27383 Scheessel |
| Price: | SOLD | Contact: | Your Inquiry |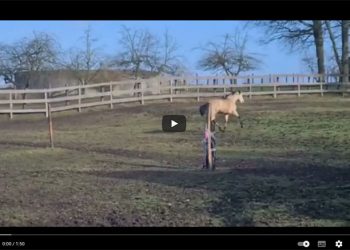 ---