Picazo is an absolutely well-behaved and lovable Andalusian gelding. He has been owned by the same owner since he was a foal and has grown up with family connections and has been broken in himself. He is very fond of people. He is a real cuddler. When scratching out his hooves, he lays his head on his back or shoulder. Even a small child can clean his hooves.
He is also very friendly when it comes to grooming, tying up and saddling. Picazo has been ridden almost exclusively outside. He goes from the stables alone without any problems and even in new surroundings or at streets with traffic he only pricks up his ears once in a while. He does not shy away, he is always easy to regulate, whether he is trotting or cantering. Therefore, although he is still so young, we can also recommend him for weaker riders and beginners. He would also make a good horse for children and youngsters.
If you also work with Picazo a bit in the arena, you will have a dream horse for many years.
FACT SHEET:
| | | | |
| --- | --- | --- | --- |
| Name: | PICAZO | Gender: | Gelding |
| Breed: | Andalusian | Colour: | Black |
| Age: | 2017 | Discipline: | Leisure – Hacking |
| Height: | 1,57 | Location: | 27383 Scheessel (D) |
| Price Level: | SOLD | Contact: | – |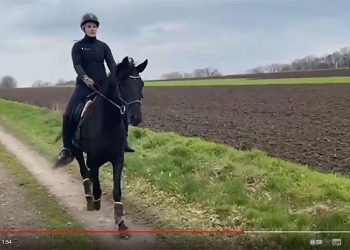 ---