Fusilero means "musketeer" in Spanish and the name couldn't be more appropriate. Who does not know the motto of the musketeers: "All for one and one for all!" Well, this also stands for Fusilero, because he gives everything for his rider. A charismatic horse that gently carrys the beginner or an insecure rider and gives everything when challenged. He never tests, he doesn't question anything, in short a wonderful horse.
Fusilero is trained very well in dressage and is also driven by one, two and four-in-hand horses. In 2021 he was Vice World Champion in Seville at the SICAB in the marathon section. He masters all side movements, canter pirouettes, passage, piaffe, his extended trot is awesome and of course he can also do the Spanish walk. Piaffe and simple canter changes need to be refreshed.
Fusilero has a top Vet Check, he is 1 a in handling. You could ride him for lessons in the morning, go off-road in the afternoon and lunge your 6-year-old niece on him at the weekend.
His pedigree is also very impressive. His father is a multiple award-winning stallion from the Lovera Stud and his mother's pedigree includes well-known studs such as Boloix, Terry, Salvatierra and Yeguada Militar.
FACT SHEET:
| | | | |
| --- | --- | --- | --- |
| Name: | Fusilero | Gender: | Gelding |
| Breed: | Pre | Colour: | Gray |
| Age: | 2008 | Discipline: | Dressage |
| Height: | 1,65 m | Location: | 27367 Bötersen |
| Price Level: | SOLD | Contact: | – |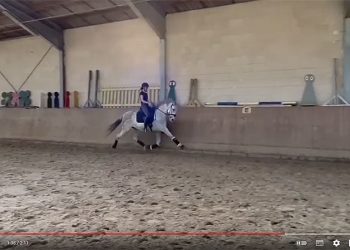 ---